The only hands-on, how-to book on this topic available anywhere in such depth.
Digital Imaging Technician:
A Very Practical Guide to On-Set Management of Digital Media  
NEW- 4th Edition
is now available for download as a universal PDF file or an iOS iBook format.
"Robert Trim's Digital Imaging Technician does what is says on the tin. It's an excellent practical primer on all as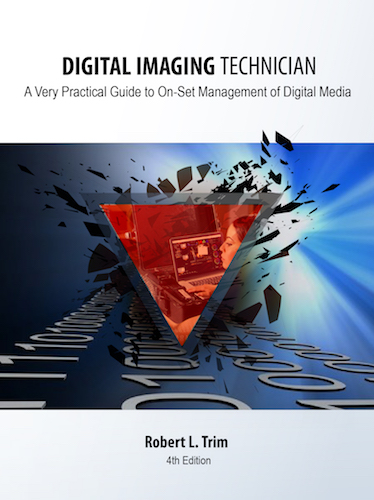 pects of the role of a working DIT and Robert covers everything from on-set etiquette to understanding the fundamentals of colour science to step by step guides to achieving common DIT tasks in specific software." Jonny Elwyn, Film Editor
This book covers the breadth of this new and demanding career field of the Digital Imaging Technicians (DITs). A section of the digital imaging industry that is growing leaps and bounds.
This carrier and the need for this skill set grows daily as almost all feature films, corporate and television productions have moved from film to digital acquisition.
The full scope of the DIT functions on set is highly misunderstood. How to actually do the job, what software to use and how to build a DIT station are still mysteries to most. This book solves all that under one cover.
What's inside this book:
NEW  Expanded HDR and VR workflows
NEW Expanded ACES workflow.
Revamp of books structure to help you learn faster.
Updated hardware chapter reflecting some of the latest and emerging technologies.
All software tutorials updated to the latest release version (as of 8/2017)
– Complete overview of the job functions
– In-depth breakdown of the software needed complete with full asset workflows using four of the top DIT softwares used by professionals today.
– Step by step tutorials of workflows in RED Cine-X Pro, Scratch, DaVinci Resolve, and ShotPut Pro.
– Independent production workflows based around DSLR cameras.
– Making workflows work for Final Cut Pro, Avid Media Composer, and Adobe Premier.
– Tips and techniques for working on-set that only the pros know.
– Full breakdown on color, color space, LUTs, codecs and how all of these are critical to todays image delivery.
– How to create a true  Rec.709 color LUT for dailies delivery.
– All digital assets, audio and video clips used in the step-by-step tutorials are included (6 gigs!)
More than 300 pages packed with the latest information to help you start as a DIT or improve your existing skills.
"One of my favourite things about the book is that it's an informal and fast read, that will give you tons of practical knowledge and fine grain DIT wisdom as you make your way through the contents, tutorials and practice media that go along with it. And because it's an ebook, those tutorials are available in a single click, as are other articles and links that the book recommends." Jonny Elwyn, Editor
Ordering options:
Sample iBook format ……….. Free from Apple iBook Store.
               Full iBook format ebook…… $49.95  Purchase will be through Apple iBook Store.
(Requires iOS device or iBooks reader for Apple computer)
__________________________________________________
            Full PDF format book……   $49.95
_________________________________________________
WHAT THIS BOOK COVERS:
This book is created as the support for academic coursework focused on the delivery of asset management practices and procedures. If you were to use this book outside a classroom setting, there is a lot of practical knowledge to be gained and will cover more than you think is possible in a short span of time. The phrase 'sit down, hold on and enjoy the ride' comes to mind.
You will go hands-on within the industry standard software; Scratch, DaVinci Resolve, REDcine-X, ShotPut Pro and more. If you don't own this software, no problem. All have Demo version available for you to do the tutorials. And there's lots of step by step tutorials.
There is more, and that 'more' is very technical. Although we will wade into the deep end of the digital pool, the focus is on the scope of the professional DIT.
Once you grasp of the core processes and concepts within the pages of this first DIT book, you will be ready to step into your first BBQ. This is what grips and electricians call your 'first day' on the set for a 'newbee'.
It is important to state at the outset, this endeavor will require a great deal of time. There's a lot of reading and a fair amount of hands-on tutorials to plow though. But it will be very rewarding. When all is said and done, you will have a great overview and gain important skill sets in areas you only once dreamed of. Many try or think they can be a DIT with a lap top, hard drive and card reader. The end result is often not good for the production company. Learn what's in this book and it will set you far above the 'wanna-be' DITs.
This book has two important components if done in an academic setting: lecture/lab and individual assignment completion. Although there will be testing along the way, actual proof that you have acquired the skills will weigh heavily in the overall grading. After all, it's what you can do on the production set, that counts. You must be able to accomplish the tasks at hand in order to be hired, or remain employed. Not much else matters.
There will be a lot of software to learn. If you don't feel you have a handle on basic computer operating system (or OS) functions (like creating folders, saving files to specific places on hard drives, managing files, etc.), then this course will get out of hand for you, fairly fast.  We will be focused on the Mac OS, as are most of the industry in this specific area.  However, all software you will use during the tutorials are available for Mac and Windows OS.
This training is focused on asset management in today's digital cinema productions. We will cover asset management for other areas of digital media, as they do overlap a great deal. The job functions for the Data Wrangler and the Digital Imaging Technician (DIT, pronounced D-I-T, not Dit). But it's bigger than just managing data as we will see.
There's lots of software to learn. A fair amount of hardware to master as well as the magical juice that holds it together… 'workflow', also know as the data pipeline. That pipeline starts at the camera setup through to the end of editorial. The DIT's job is right in the middle of it of production and post-production. It's one of the most technical job on-set these days.
The skills you will learn can be applied to a one-man shop, to a corporate video production setting, to a full blown, multi-million dollar movie. It's, as they say, scalable.
About the Author:
Robert Trim has spent more than 30 years in various parts of the film and video production industry. With his first fascination being the still image, Robert put himself through college doing models portfolios, corporate brochures and annual reports, product photography and lots of painful weddings and baby portraits.
Then the moving image caught his eye. 16mm film became a passion. The frames whirred, the labs processed and late nights were spent hunched over editing benches with the ever-so-lovely smell of splicing glue.  This gave way to the new media…video tape. Immediate gratification. Shoot it and see it right away. Albeit black and white, using really bulky gear and not so portable cameras. Never mind.  It was cool.
After the undergraduate degree, Robert worked in the industry for 20 years. As creative director for a regional advertising agency serving 400 Kentucky Fried Chicken franchise stores, more auto dealers than one could shake a stick at. And of course the odd clothing store or real-estate development marketing firms. Along the way he garnered several regional and national advertising awards, and added 300 TV and radio commercials to his portfolio.
During his 8 year stint in the broadcast News business, he edited and produced his way to 11 Regional News Emmy awards working for networks and network affiliates.
Robert delved deeply into the corporate and educational media production, producing more than 400 program-hours of educational tele-courses, corporate promotional, and product videos. As well, he has been a DIT and Data Wrangler on commercials, music videos and feature films.
Along the way, he found a few hours to help raise a family and finish a Masters Degree in business administration.
Robert's currently an Associate Professor of Digital Media at Utah Valley University located in Orem, Utah, just south of Salt Lake City. And Robert a Fulbright Specialist, teaching at universities around the world. He's an Avid Certified Instructor for Media Composer and Avid Symphony software.  He teaches these and asset management in addition to his first love… cinematography.
__________________________________________